I wanted to make a transparent circuit, made with clear acrylic plastic, and the circuit pattern is etched onto the plastic using a laser cutter. The etching forms a groove that is about 0.1mm deep and 0.8mm wide, this groove is filled with conductive ink to form a circuit.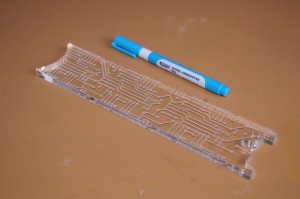 I attempted this experiment, but was met with…
…several difficulties. These problems are bad enough for me to not suggest this method.
My conductive ink is made with nickel, which is much cheaper than conductive ink made with silver. I could not find any documentation on the conductivity specification of either of these inks. But I drew a track anyways, and the resistance was several hundred ohms only after a few inches. My circuit is supposed to carry somewhere around 300mA and cannot suffer more than 0.3V of voltage drop, even one ohm is unacceptable.
Without any sort of documentation, I cannot compare nickel ink with silver ink, although I can guess silver ink is probably better. I do not want to waste any more money to try, due to the next reason.
The conductive ink also has an ingredient that melts acrylic plastic. Drawing into the groove without overflowing the groove is very difficult (the etched groove is rough because the laser has to use a back-and-forth motion to do the etching, making the pen's spring-loaded tip very difficult to control). Any attempt to wipe up the overflowing ink will ruin the plastic as the acrylic is in a melted state. You can wait until the ink has dried, but then you risk chipping away large sections of dried ink, or scratching the plastic.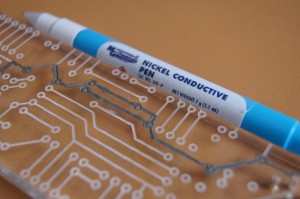 So kids, don't try this at home. It's totally safe, but it's a waste of time, money, and effort. (I am hoping this makes it onto Hack a Day Fail) (edit: yay it made it http://hackaday.com/2014/10/09/fail-of-the-week-transparent-circuit-design-is-clearly-a-challenge/ , hi everyone, this project evolved into this project)
My next attempt will involve using wider tracks and copper foil.
I am also aware of how to make glass circuits.
EDIT: You all have great ideas, but keep in mind that I do not have my own laser cutter. What I've attempted here was done through Ponoko. So I can't simply ask them to do super special things like coating the plastic with copper before etching.