Most micro (palm sized) quadcopters are RTF and comes with a crappy cheap transmitter, and I really want to use my awesome expensive Taranis. I found out that Q-Bot comes with a tiny transmitter module that I can connect to my Taranis.
I didn't want some ugly thing dangling off of my Taranis so I decided to 3D print a module that will contain the Q-Bot transmitter circuitry and plug into the Taranis' module bay, which fits "JR" style transmitter modules.
and here is what it looked like before: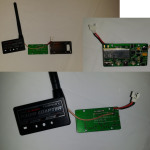 The 3D files (SLDPRT, STEP, STL) are here on Youmagine
You need a SMA or RP-SMA pigtail and matching antenna (for 2.4 GHz). Make a 5 pin connector using crimps and 0.1″ pitch housing and wires. Place the connector into the 3D printed holder first and pull out the wires. Solder wires to the circuit, pigtail to the RF front end, all the other wires should already be labelled. Secure the transmitter circuit to the plastic using double-sided tape or hot glue.
I didn't use screws because there isn't much room to make a strong boss that will print correctly.
The radio setup is a bit strange. First, make sure the transmitter module is in "F" mode (green LED). Setup a new model in the Taranis, and turn off the internal RF module, turn on the external RF module to PPM mode. Set the channel order and mixer weight to be:
CH1: Ail, weight = +100%
CH2: Ele, weight = -100%
CH3: Thr, weight = -100%
CH4: Rud, weight = -120%
I say this is strange because other people apparently use -100% for everything except for rudder, but my setup works for me.