I went to CES 2016 in Las Vegas. This is my second time visiting CES, last year I made this post (CES 2015) about it too.
This year is a little underwhelming than last year, perhaps its because last year was my first time, and this year is my second time. There are many things that simply remained unchanged, or just slightly improved. Here's a list of what I found interesting: (continue reading)
This is what I found interesting or what I need to remember, no where near all the booths I actually visited.
Cool Electronics
I had a lovely chat with Micro Crystal AG in Switzerland
They had a bunch of crystals before they put the metal can on them. I learned a some stuff about watch crystal manufacturing.
SMK LOGOMOTION showed me their tiny NFC antenna, so tiny that they are making a microSD card with embedded security and NFC.
This means the microSD card can be placed into your phone and used with tap-to-pay terminals, without even installing any software.
SMK USA also had some other things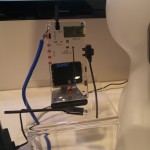 they design consumer electronic devices and make tiny components that help make those devices very small.
EUROCOM makes some beefy laptops, they had their laptop motherboards on display.
They have actual CPU sockets and make their own discrete GPU daughterboards with non-M GPUs, even a GTX980.
This is a motorized tracking antenna array by Panasonic:
3D Printing
There are a few companies making improved PLA filaments, and I got a few samples. Thanks to Esun (gave me some PLA+) and 3D Printlife (gave me some PLAyPHAb, nice name guys) for the free samples. NinjaFlex) is making a new flexible filament that can print faster, called "Cheetah", thanks for the free sample.
Nano Dimension DragonFly 2020 3D Printer, a 3D printer that prints PCBs using an ink-jet process. Much bigger machine than Voltera and much more expensive.
Hatchbox gave me some coupon codes, thanks! (I don't think they have a website, but they are selling on Amazon)
Cel-Robox has a small printer that has needle valves in the nozzle, and can have dual extrusion. Filaments are tagged with rewriteable EEPROM.
MoonRay 3D Printer ($3500), uses DLP process, found them kind of funny because the projector is plugged directly into your computer via HDMI. May be able to compete with Form 2. Thanks for the sample!
Here's a boring video of a SLS printer in action:
IoT and Smart Home
Kaa, end to end IoT solution for consumer. SDK, cloud, open source platform (???), professional services, and a lot of other buzzwords.
Rigado LLC, offers precertified BLE modules based on nRF51 and nRF52, plus offering design services.
Beijing Jiaan Electronics Technology (their URL says "alarmsources", I guess they can't afford the $10 needed to update a domain name), offers IoT modules based on CC3200, CC2640, CC1310, CC2541, and nRF51.
Wi-Key, you put this "key" into kitchen utensils and somehow they are linked together and there's an iCuisine app that does something…
KONEKT.IO, thank you very much for the SIM card (promo code "VEGAS2016"), they offer tiny pay-as-you-go cellular data plans, as well as GSM modules (3rd party module combined with ARM Cortex M*, with their own firmware, or your own firmware).
mcthings, IoT device modules and they have their own scripting language for them, which looks like VB.NET but event driven.
I got a book called IoT Security for Dummies, by Lawrence Miller and Inside Secure.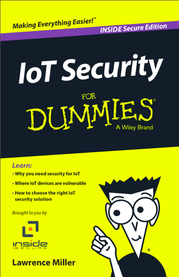 I also got a cool looking pen from them. Thanks Inside Secure!
Fibaro Hole Intelligence, home automation system and devices using Z-Wave.
AeoTec by Aeon Labs, home automation system and devices using Z-Wave.
Skylink Home, connected home devices, no fees, DIY install, garage door openers, alarms, video monitoring and stuff.
Owon SmartLife. Zigbee home devices, gave me a USB key with their catalog stored on it.
NuBryte, neat easy to install smart light switches (color touch screen with camera and stuff).
Gaming
LaserTagPro, their gun has some haptics, scans QR codes to morph weapon types (shotgun, rifle, etc), has grenades, looks super fun.
I honestly didn't really see anything innovative in the gaming category, and didn't get to demo Vive or Oculus.
Misc
Dino-Lite: small USB microscopes that are actually not total shit (ahem… ebay quality). Wide selection, kinda expensive but image quality impressed me enough, with decent software.
Wocket Smart Wallet: a small device with a touch screen that is supposed to consolidate all your payment methods into one device. It has NFC and biometric security.
Tibbo Technology, has a product system that is a colorful modular electronics kit that is kind of industrial and educational. Plus they have this erector aluminum beam system that might be useful.
Ice Dragon Cooling, they make coolants for liquid cooled PCs, their coolants have nano-particles inside on the scale of nanometers, to improve heat transfer. I had a lovely chat with Dale and learned a lot, and he offered to give me a sample but I declined as I don't need any.
GeChic 1303H portable monitor by ICI Touch Tech, 1080p portable LCD 13.3 inch monitor with micro HDMI, mini-DP. Promo code "CES2016" for $30 discount.
NthDegree, Printing the Impossible. Prints tiny LED emitting elements onto transparent sheets to achieve a sparkly pattern that looks really pretty.
Beatz.tech, makes heart rate sensors for wearables, but only the sensors.
Ossia, Real Wireless Power. They showed off some sort of long range indoor wireless power system called Cota.
RECMED First Aid Kits, a vending machine for first aid kits. Cool concept from a 13 year old kid.
ActiveHearts Technology Licensing, puts tiny bio sensors into earbuds, but they only make the circuits, not the earbuds.
Think-SiliCon and Tortuga Pacific, ultra low power NEMA-GPU for wearable displays, I think they are meant for 2D UI elements on smartwatches.
cordotz.com, pretty cable management thingies, maybe I can 3D print them myself. Coupon code "CES2016".
Toppking Electronics and Blind Spot Solution. Aftermarket blind-spot warning system.
Voyomotive, interesting because of the "crowdsourced roadside alerts", which detects if the road is slippery and warns others. Plugs into car's debug port.
Cleanint, makes UV sterilizers for electronic devices, really fast, and also makes MS Surface Pro 3/4 accessories. See video below of their product disinfecting a remote control:
Power All, battery pack that can jump-start a car. I need one… Promo coupon code "CWL30". Their business card also lists: dreamwaveus.com, tekmatsusa.com, gryphonmobile.com
Savant, makes a remove with a color touchscreen and voice commands, with a neat dock for recharging. Remembered for looking nice.
I got a sticker from Decibullz, they make "custom" earbuds, with a molding that you squeeze to fit your own ear.
Thanks to Spin-Spun for the cotton candy!
Thanks to Vuze.Camera for the frisbee!
Thanks to Private Internet Access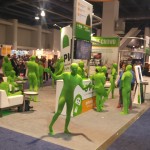 …for the webcam blocking sticker!
Thanks to AMS for the party (held in Hugh Hefner's Sky Villa)! (pics below)
There is also the bed that spins, like in Austin Powers.
Thanks to GP Batteries for the free ReCyko batteries and charger kit!
Random Pics
Wall of remotes:
Car or Car-ish things:
NVIDIA Drive PX 2:
Robots:
Electronics:
Arty and Pretty:
Weird 3D Printers:
RC Fliers:
And here's a robot that tries to break a phone: