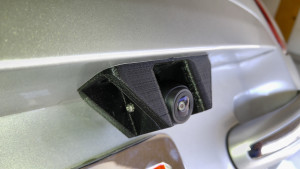 3D printed a mount for my Garmin BC 30 wireless camera to go along with my Garmin NuviCam LMTHD GPS navigator. My car is a 2011 Hyundai Santa Fe.
The bracket that came with the camera required me to install it on my license plate. I didn't like that idea because I explicitly went out to buy my funny license plate cover.
The mount is designed to be seated where a light used to be. This eliminates the need to drill new holes on the exterior. The camera is wireless but needs to be connected to the white reverse light as a power source, this is also how the screen automatically switches to rear-view mode.
Pictures below are annotated:
You want the CAD files? Click here! As usual, I provide the original source file, so you can edit dimensions. Also, IGES and STEP formats are provided in case your CAD software can't open my source file. No STL is provided, that's your job. The mount is 3D printed in ABS due to consideration regarding temperature. It is printed at 0.2mm layer height for strength.
Future improvements:
Some more cover. Sink it inside the rear gate (I didn't know I had to angle it so far down). Anti-theft measures.