Here are some other old small projects. These are probably from my high school days. Some are from my university days. I've collected them all onto this one post when I moved my website.
---
My Instructables
Check out my Instructables account, I've won a lot of contests with big prizes.
---
GPS Device
Back in 2007 when smartphones were not popular yet, I managed to build this:
I built it to do Geocaching.
---
ADNS2610 Optical Mouse Sensor
Here it the sensor sending raw image data through USB. Nothing fancy, I just thought it was cool that you can get raw image data.

---
Wii Nunchuk Projects
These extremely simple USB projects take me only a few hours to do, because of my expertise in Wii accessories and USB.


---
Robots
These were all made in around 2007 and 2008 while I was in high school
---
Me being the Electrical Lead on the UW Mars Rover Team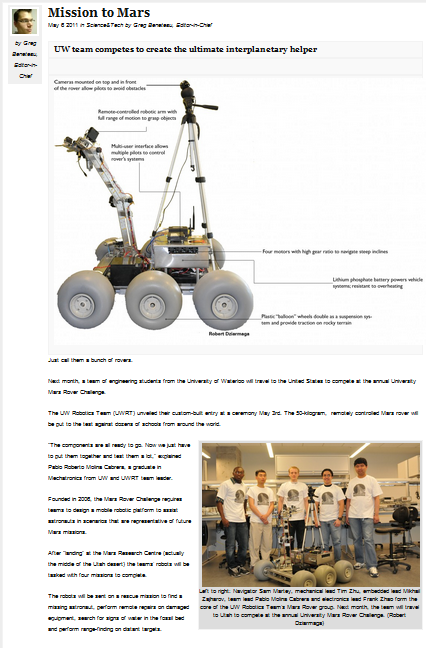 I designed a lot of circuitry for them. Unfortunately I wasn't able to attend the actual competition.
---
Echo (Sumo Wrestler)
This fella won the "Judges Award" at UW, which means we didn't win the wrestling but the judges liked our design the best.
---
Charlie Line Following (at the Canadian National Robot Games 2007)
---
Charlie Remotely Controlled (my first radio controlled project)
---
Charlie Controlled using Wii Nunchuk
This was pretty cool at the time, it made it on to Engadget or something.
---
My first robot (2007), a simple light chasing and obstacle avoiding robot, completely built from scratch. Controlled by a PIC microcontroller.